Honda Pumps excel in combustion efficiency resulting in high performance, less emissions and greater fuel economy through the commercial grade engines. With portable, medium duty, trash, fire fighting and light chemical pumps available. Our complete pump line-up is designed to move liquids quickly, safely, quietly and easily. There's something in the range for any job and to get everyone pumped!  
Firefighting/high pressure water & light chemical pumps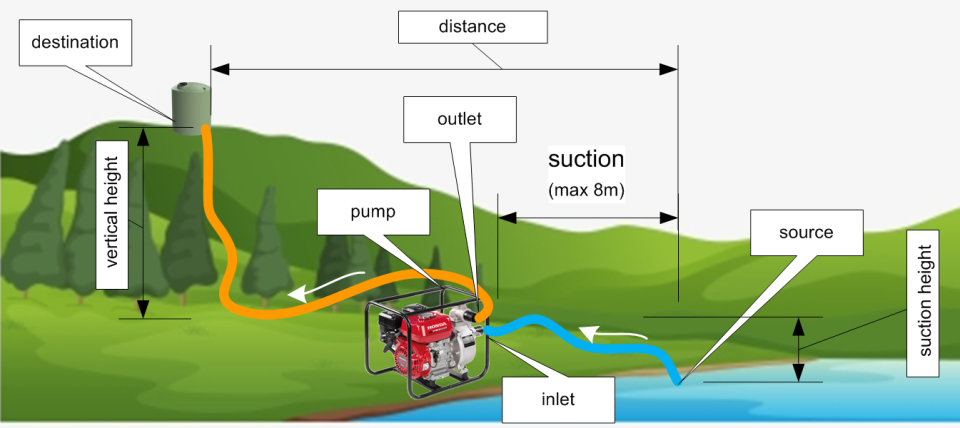 Which Pump Do I Need?
---
Use our pump calculator to help select the right pump for your requirements.   
selecting a pump - Pump APplications
Transfer Pumps
Construction (Trash) Pumps
Type of Pump:
Lightweight Portable Water Pumps 
Medium Duty Water Pumps 
High Pressure Water Pumps* 
WX
WB
B55H/UP650M(E
Clear Water
•
•
•
•
Slimy Water
•
•
•
•
Muck Water
•
•
•
•
Silt Water
•
•
•
•
Fast Seepage
•
•
•
•
Manholes
 
•
•
•
Cofferdams
 
•
•
•
Quarries
 
 
•
•
Industrial/ Agricultural Chemicals*
 
 
 
•
Supply to:
Mixer or Paver
 
•
 
•
Concrete Curing
 
•
 
•
Water Wagons†
 
•
 
•
Sprinklers or Nozzle
 
 
 •
 
†Non Potable Only  *Pumps powered by Honda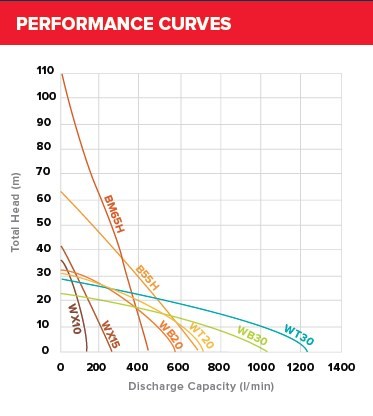 Performance Curve Chart
---
Selecting a pump the right discharge capacity and total head to ensure you can pump what you need to when you need too! 
Still have a question? Try our pump FAQs page for a range of answers.